Travel Destination Part 2
Posted on February 2, 2018
Description:
Previously: Travel Destination Part 1

While I admit I was curious about scenic Adak, Alaska, I'm relieved to not be returning to the frozen hellscape of my youth. Having spent 20 years in Portland and the last seven months here in Los Angeles, it makes sense that I should travel east -- and not remain west -- on this journey of self-reflection. With 66% support we're down to 21 eastern cities. I've drawn a very scientific (read: totally arbitrary) line between them to split the area into some semblance of north and south.

Yes Vote: Fort Laurderdale, Tampa, Orlando, New Orleans, Charleston, Raleigh, Atlanta, Nashville, Kansas City, St. Louis.

No Vote: Milwaukee, New York, Indianapolis, Chicago, Newark, Baltimore, Detroit, Minneapolis, Philadelphia, Boston

Reminder: This trip isn't for pleasure. It's a marker of a new chapter in my life, and the ten year anniversary of the KmikeyM project. As such, while my plan is to travel alone, I would be thrilled to use this as an opportunity to meet up with any shareholders who live in the city I end up in. That way, we can figure out together what the next ten years of KmikeyM should look like!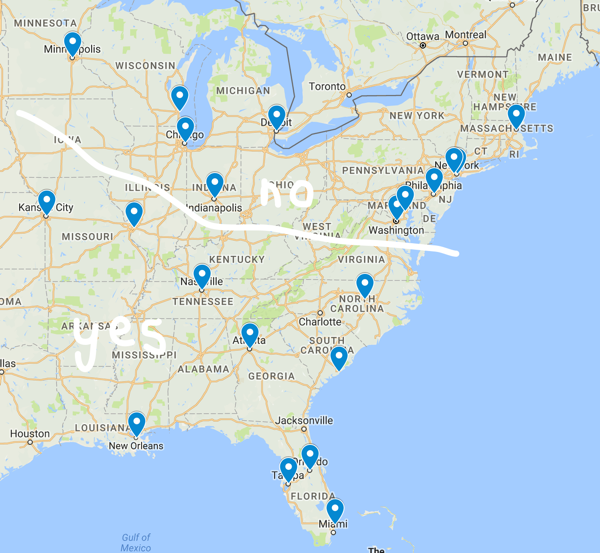 Past Discussion